Cosmetic Dentistry
No matter your need; teeth alignment, coloration correction or overall smile improvement, you can trust the expertise of our doctors to provide professional and quality service. Let us assist you with all of your cosmetic dentistry needs in La Mirada.
Teeth Whitening
Teeth whitening procedures at our La Mirada office are simple, non-invasive treatments that have effectively provided many patients the confidence to smile again, and again. Teeth whitening can alter the color of your natural tooth enamel and is an effective way to improve the beauty of your smile. Let our trained team of professionals examine the condition of your teeth to determine which teeth whitening procedure is best suited for you.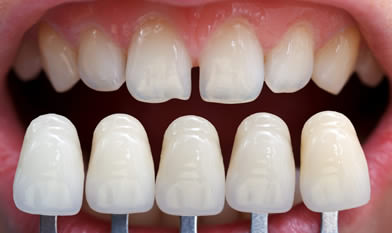 Veneers
Veneers are thin pieces of porcelain bonded to the front of your teeth to change their color and/or shape. Serious damage such as uneven surfaces, chips or discolorations, oddly shaped teeth, unevenly spaced or crooked can be resolved using veneers. Veneers can completely redesign your teeth, successfully providing a natural looking smile.
Porcelain Inlays
Inlays are custom made fillings made of a composite, gold, or tooth-colored porcelain. Porcelain inlays are used most often as they more closely resemble your natural teeth. Inlays are used to repair teeth with defective fillings or that have been broken by decay or injury. An inlay is permanently cemented to the tooth's enamel on the broken part of the tooth's biting surface. Inlays restore the tooth to its original appearance.
Porcelain Onlays
Onlays perform the same function as Inlays except that onlays are used to repair a larger part of the tooth's surface, also referred to as a partial crown. Onlays repair teeth that have been damaged by decay, injury or that have large defective fillings. Porcelain onlays are considered the most ideal filling material as they best resemble your natural tooth. Porcelain onlays also boost the natural strength of your entire tooth's bite by creating a well-built bond with your tooth enamel.