Dental Implants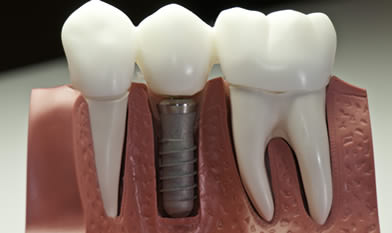 What are dental implants?
Dental implants are artificial tooth roots that provide a permanent base for fixed, replacement teeth. Compared to dentures, bridges and crowns, dental implants are a popular and effective long-term solution for people who suffer from missing teeth, failing teeth or chronic dental problems. Because they fit, feel and function like natural teeth, dental implants are quickly becoming the new standard in tooth replacement.
What makes dental implants from Bright Dental in La Mirada feel completely comfortable and secure? Dr. Gaminchi uses a medical-grade titanium implant fixture that, over time, actually fuses to the living bone cells of the jaw. This union forms a strong and durable anchor for your new teeth, meaning there's no slippage or other movement (which can sometimes happen with dentures). There are also no problems eating with dental implants, no need to repair them regularly and no more worrying about smiling freely and openly.
Dental implants typically have three parts:
1) The implant: A screw that serves as a root for your new teeth. This is what permanently attaches to your jaw.
2) The abutment: A permanent, but removable by your doctor, connector that supports and holds a tooth or set of teeth.
3) The crown (or prosthetic tooth): This is the part of the tooth that you can see. It's usually made of zirconium or porcelain for durability and good looks.
You can use dental implants to replace a single tooth, multiple teeth or a full upper and/or lower set of teeth. If you need to restore a full arch, you may be a perfect candidate for the all-on-four treatment. Our La Mirada surgeons will place four dental implants and then attach a full arch of teeth, giving the procedure its name (all teeth, only four implants).
Single tooth replacement
If you are missing a single tooth, one implant and a crown can replace it. A dental implant replaces both the lost natural tooth and its root.
What are the advantages of a single-tooth implant over a bridge?
A dental implant provides several advantages over other tooth replacement options. In addition to looking and functioning like a natural tooth, a dental implant replaces a single tooth without sacrificing the health of neighboring teeth. The other common treatment for the loss of a single tooth, a tooth-supported fixed bridge, requires that adjacent teeth be ground down to support the cemented bridge.
Because a dental implant will replace your tooth root, the bone is better preserved. With a bridge, some of the bone that previously surrounded the tooth begins to resorb (deteriorate). Dental implants integrate with your jawbone, helping to keep the bone healthy and intact.
In the long term, a single implant can be more esthetic and easier to keep clean than a bridge. Gums can recede around a bridge, leaving a visible defect when the metal base or collar of the bridge becomes exposed. Resorbed bone beneath the bridge can lead to an unattractive smile. And, the cement holding the bridge in place can wash out, allowing bacteria to decay the teeth that anchor the bridge.
Fixed Hybrid Denture Implants
Can just four implants replace all of the teeth on the top or the bottom of your mouth? Thanks to advances in dental implant technology, that answer is a resounding yes.
Believe it or not, tooth loss is extremely common among adults, especially as we age. In fact, more than 35 million people in America are missing all of their upper and/or lower teeth. Rather than living with the discomfort and hassles of dentures, many people in La Mirada are opting for what is called "all-on-four" dental implant restoration or denture implants.
Fixed Hybrid Denture: One full arch of teeth, four dental implants
To fully understand this remarkable technique for replacing teeth, you should first understand what a dental implant is. An implant is a small titanium screw that fits inside your jawbone and replaces the root-part of a missing tooth. Minor surgery is required to insert the implants. Once the implant is in place, a crown is attached to give you a highly realistic-looking and functional prosthetic tooth.
Here's where it gets really interesting: You do not need a dental implant for each and every one of your missing teeth. All you need is four precisely placed implants on the top of your mouth, and four on the bottom, to restore your full smile. That's the beauty of the all-on-four. And because the implant is made of titanium, it has the unique ability to fuse to living bone and function as part of it. So eventually, the dental implant becomes part of the jawbone and serves as a strong, long-lasting foundation for your new teeth.
Besides ensuring that your implants are permanently fixed in place, this bone fusion has another important benefit: it prevents future bone loss in the jaw. This helps to maintain a more youthful facial structure—and better oral health. But perhaps the biggest surprise about the all-on-four is how quickly it can transform your life.
After your day at Bright Dental, your new smile will look and feel great, but it's only temporary. You see, it takes the dental implants received at our La Mirada office some time to heal and fuse to your jawbone. Once that happens, you'll come back in and your team will replace your temporary teeth with a permanent, customized smile designed just for you.